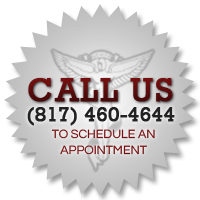 Located in Arlington, the American Dream City between Fort Worth & Dallas, Booth Chiropractic & Acupuncture continues to be a growing part of the health care community by finding and treating the cause of back pain, neck pain, leg and arm pain, sports injuries, auto accidents cases, and scoliosis.
The Dr.'s Booth are the originators of the six point headache therapy and have a history of successfully relieving and eliminating headaches that patients have had a history of having intermittently for years.
Booth Chiropractic of Arlington Treats the Following:
Back Pain
Arthritis Pain
Sports Injuries
Leg & Arm Pain (and related numbness)
Accident/Injuries
Neck Pain/Stiffness
Headaches
Scoliosis
Please give us a call at 817-460-4644 for more information or to schedule an appointment if you live in the Arlington, Texas area and are in need of an experienced Chiropractor, Acupuncture treatment, or any of our other holistic healing services to treat your injuries & relieve your pain.
We are currently accepting new patients at our Chiropractic clinic in Arlington, TX and look forward to meeting you!